(Chinhphu.vn) - Coast Guard Ship 8005 - one of the most modern ships in Southeast Asia, serving the task of patrolling, protecting sovereignty over seas and islands, and enforcing law on waters and continental shelves Our country's land was just launched at Song Thu Shipyard (Da Nang) on the morning of November 30.
The ship is designed to be advanced and modern, fully meeting international standards.
Ship 8005 has a capacity of 200 people, a displacement of up to 2,400 tons, operates in Vietnam's waters and continental shelf with unlimited range, in wind conditions of level 12 and can operate continuously at sea. 40 days and nights, range of 5,000 nautical miles.
This is the second ship in the DN2000 multi-purpose ship series designed and built by Song Thu Corporation (Ministry of National Defense).
The ship was completed 6 months earlier than expected and was a great step forward for the Corporation in terms of construction time, creating an important premise for Song Thu to be able to undertake modern, large-scale projects. large scale, contributing to budget savings and creating a solid foundation for product localization.
At the ceremony, Deputy Prime Minister Nguyen Xuan Phuc highly appreciated the efforts of shipbuilding units under the Ministry of National Defense and the Coast Guard Command, especially in shipbuilding projects for the coast guard force.
To successfully implement the Project to build a Coast Guard force by 2020, the Deputy Prime Minister proposed that the Ministry of National Defense pay more attention to building an elite and professional regular force. In particular, the Coast Guard needs to constantly improve the quality of training and coordinate with the Navy and functional units to protect island sovereignty and national interests, especially fishermen and civil servants. Vietnamese people in accordance with Vietnamese and international laws.
The Ministry of National Defense needs to focus all resources on improving modern military shipbuilding technology, gradually mastering weapons and warship production technology... to increasingly improve combat readiness and combat power. of the army.
After launching, ship 8005 will be completed and training for the crew will be completed. It is expected that within 3 months, the ship will be handed over and put into operation.
Ship 8005 is a ship built according to Resolution 72 of the National Assembly on implementing the shipbuilding program for the Vietnam Coast Guard. Including 2 large multi-purpose Coast Guard ships, 4 multi-purpose patrol ships, 1 multi-purpose transport ship to refuel at sea.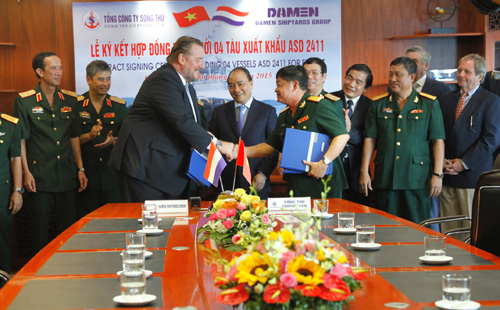 Photo: VGP/Hong Hanh
* On the same morning, under the witness of Deputy Prime Minister Nguyen Xuan Phuc, representatives of Song Thu Corporation and Damen Shipbuilding Group (Netherlands) signed a contract to build 4 new ships ASD 2411 for export to Europe. It is expected that these 4 ships will be handed over after 15 months of construction.
Hong Hanh